VIP Mobile – Embassy Services
Service for VIPs, governments and state people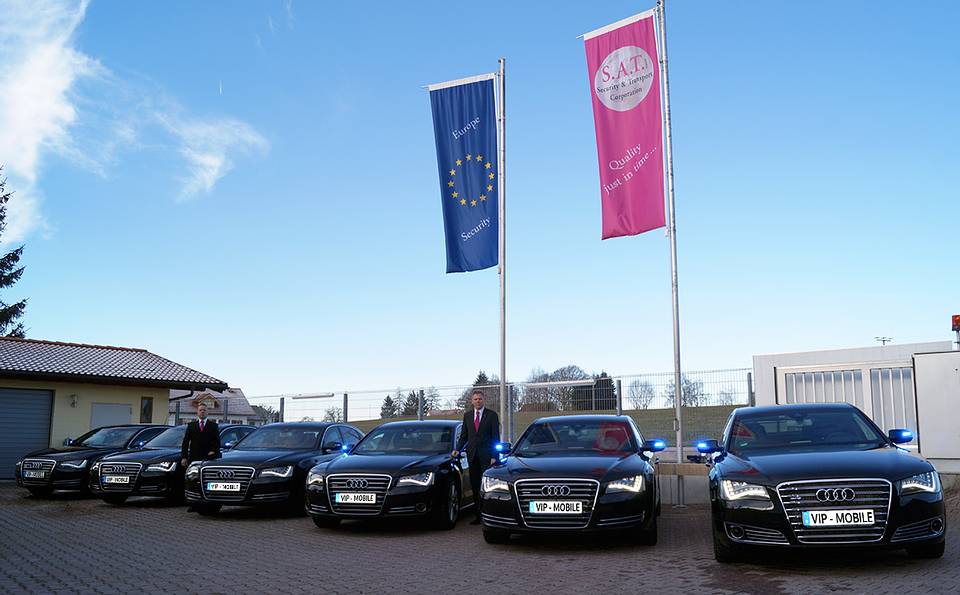 Europaweiter VIP-Limousinenservice für Botschaften und Diplomaten
Exklusiv für Diplomaten und Botschaften bietet VIP-Mobile einen VIP-Personenschutz inklusive Limousinenservice an. Wir sind rund um die Uhr für Sie da und garantieren Ihnen eine VIP-Betreuung, die ganz individuell auf Ihre Wünsche und Belange zugeschnitten ist.
Europaweit sind wir mit unseren Dienstleistungen dort für Sie im Einsatz, wo Sie uns brauchen – zum Beispiel in Zürich, Genf, Paris, Berlin, Davos oder Bern. Unsere weiteren Einsatzorte finden Sie hier
Sehen Sie sich eine Auswahl unserer bisherigen Einsätze in ganz Europa unter Referenzen an.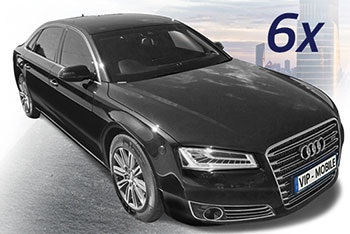 Audi A8 Security VR 9/9 - fully armored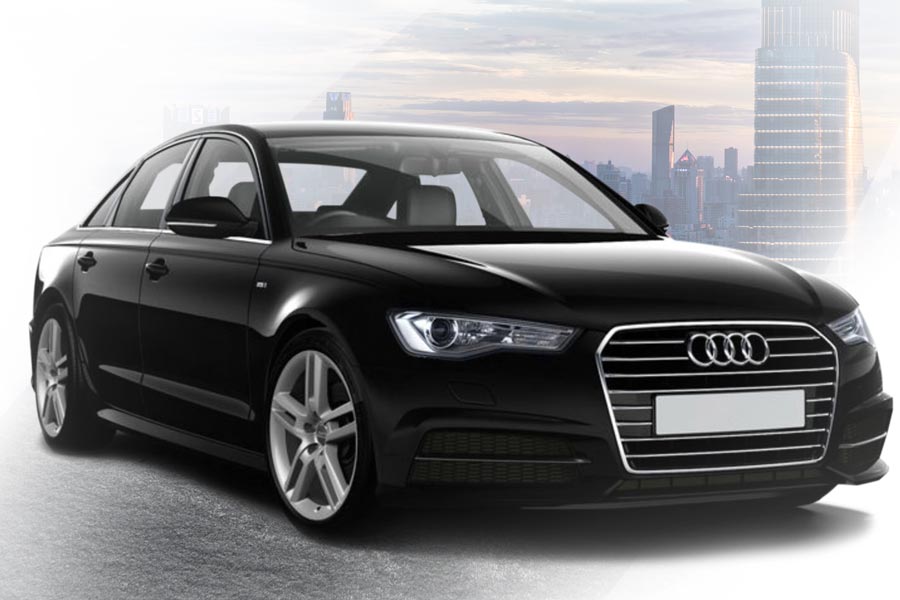 Audi A6 quattro - unarmored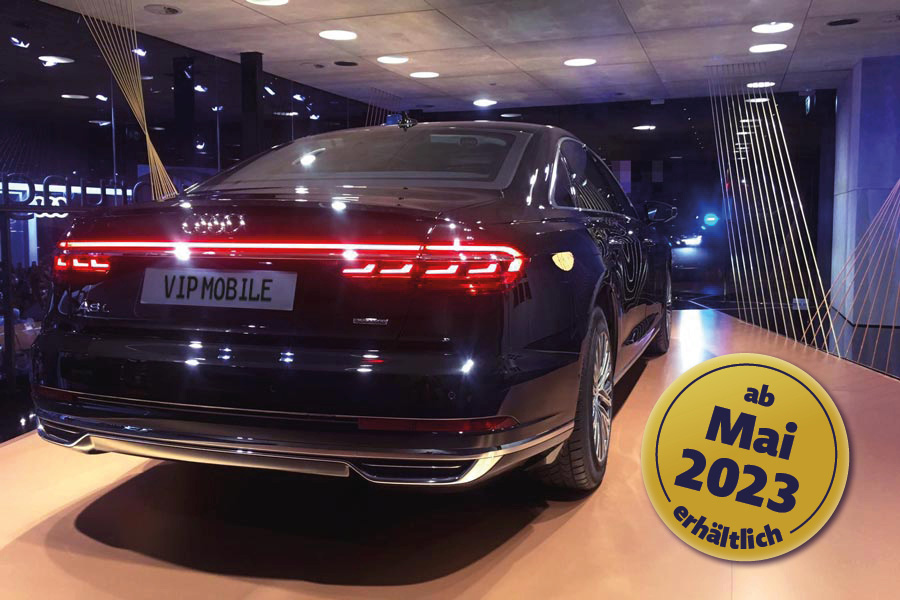 Audi A8 Security VR 9/10 - armored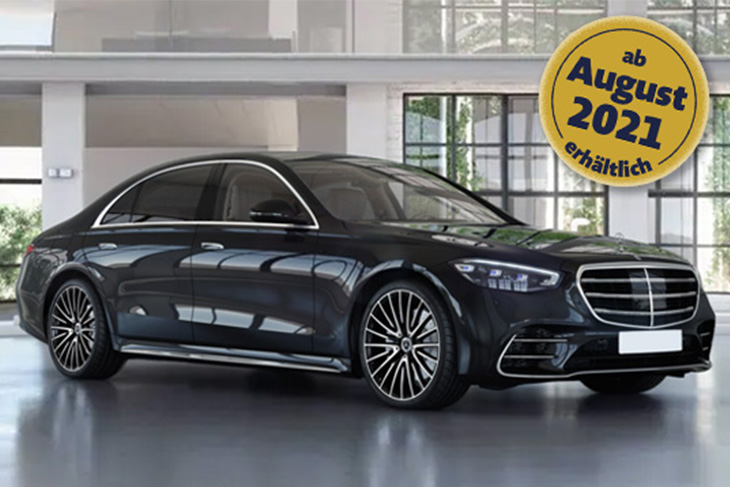 Mercedes S-Class - unarmoured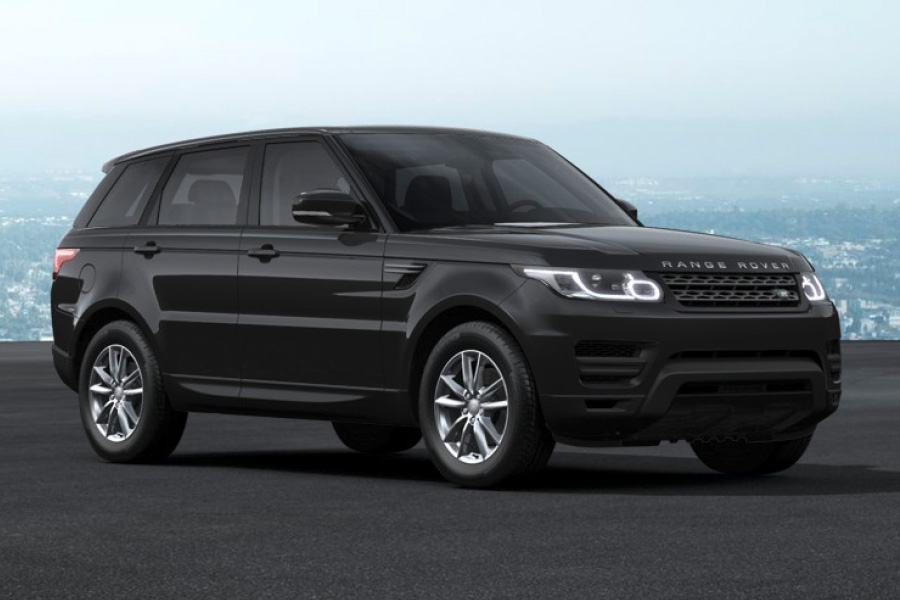 Range Rover Sport / SUVs - unarmoured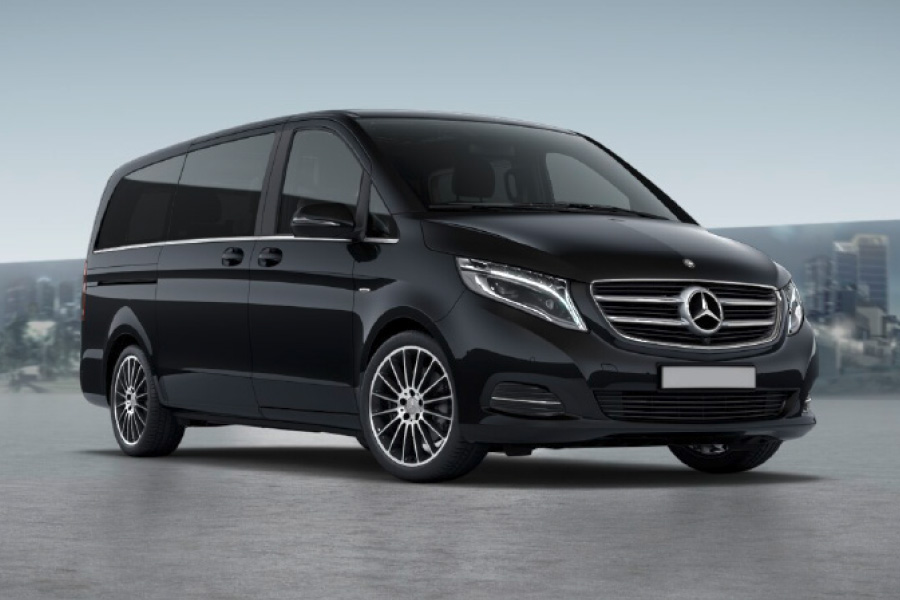 Mercedes V-Class - unarmoured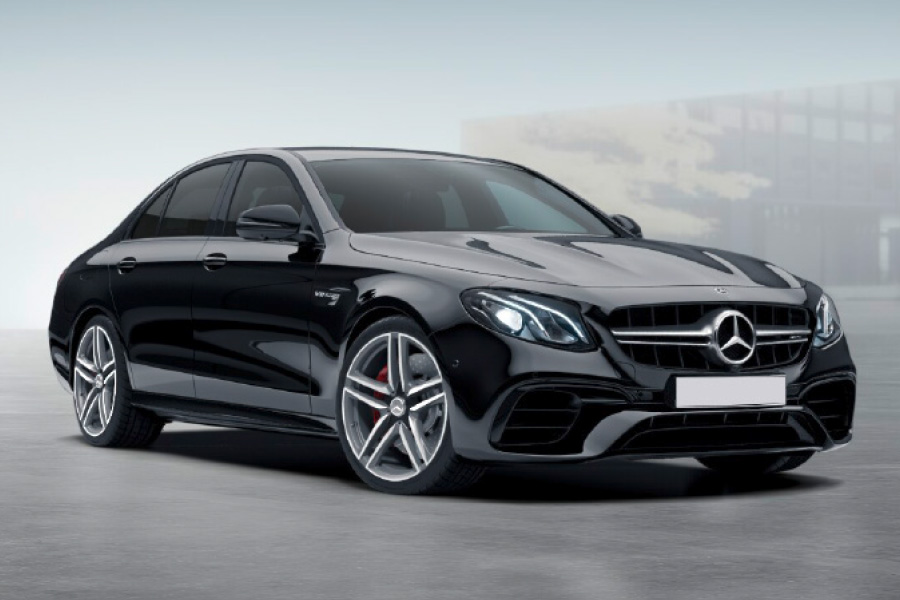 Mercedes E-Class - unarmoured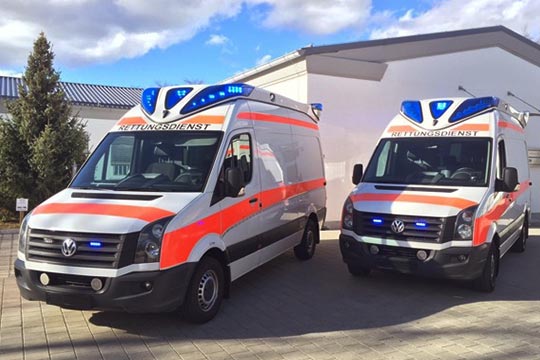 Private ambulance and rescue vehicle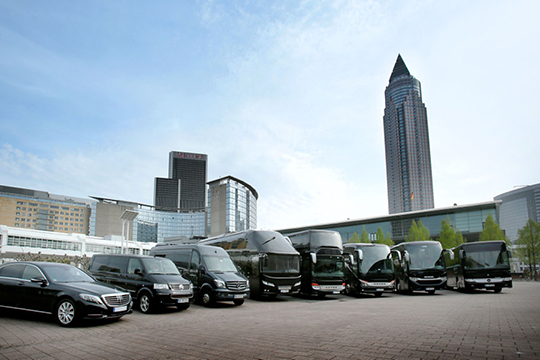 The VIP bus fleet at your service
Vehicle request
Contact us. We answer promptly.
Clients and cooperation partners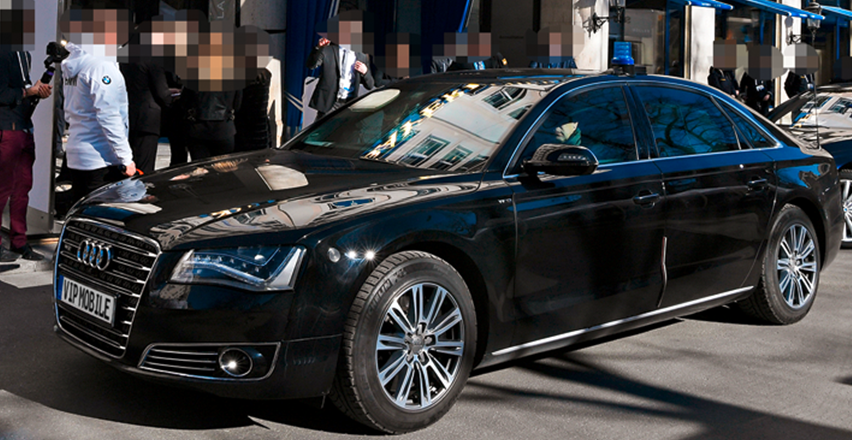 Safe escort from the airport to the "Bayrischer Hof" hotel
Sicherheitskonferenz München 2019
Bereits 2018 waren wir mit einem Fahrzeugaufgebot von über 60 Fahrzeugen sehr gefragt. Dieses Jahr konnten wir sogar noch ein wenig auftrumpfen. Mit über 70 gepanzerten und ungepanzerten Sonderschutzfahrzeugen war VIP Mobile 2019 im Einsatz. 
Führende Politiker aus ganz Europa trafen sich zur alljährlichen Beratung zur Sicherheit der Welt in München. Zu unserer Flotte zählten dieses Jahr allerdings nicht nur Sonderschutzfahrzeuge sondern auch Shuttlebusse, mit denen wir unsere Klienten vollkommen abgesichert ans Ziel chauffierten.
Munich Security Conference 2018
We were in action with over 60 vehicles at the 2018 security conference. Presidents from around the world met again this year to discuss world security at the 2018 Security Conference in Munich. The VIP Mobile Embassy Service was represented by a large number of security vehicles. The personal security, the fleet of vehicles – consisting of large buses, minivans, limousines, ambulances and some armoured cars – and the excellent cooperation with the Kempten police ensured the safety of the high-ranking visitors.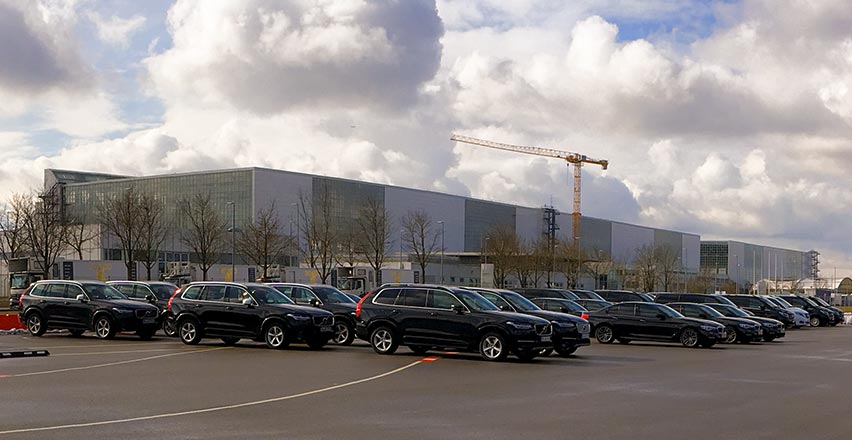 A small part of the vehicle fleet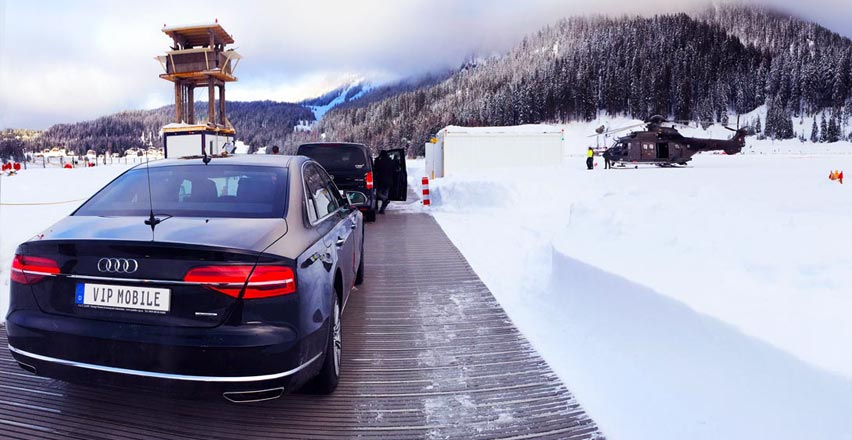 Pick up customers directly from the helipad
World Economic Forum 2018
Beim internationalen Weltwirtschaftsforum (Annual Meeting 2018 des WEF – World Economic Forum) in Davos in der Schweiz waren wir für unsere Kunden rund um die Uhr im Einsatz. Wir unterstützten Präsidenten und hochrangige Regierungsmitglieder mit unserem exklusiven Service:
World Economic Forum 2017
At the World Economic Forum (WEF) in Davos, Switzerland, we were also on duty around the clock with nine vehicles for presidents and offered an exclusive service:
Limousine service in our armoured limousines
Hotel and restaurant service in Davos – Europe-wide
VIP personal protection – 24-hour care / bodyguard
Pick-up service / airport service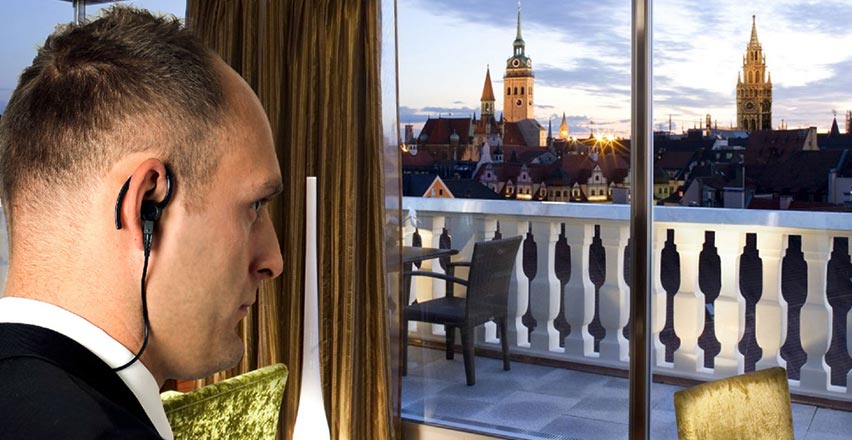 Embassy Service: VIP personal protection / bodyguard service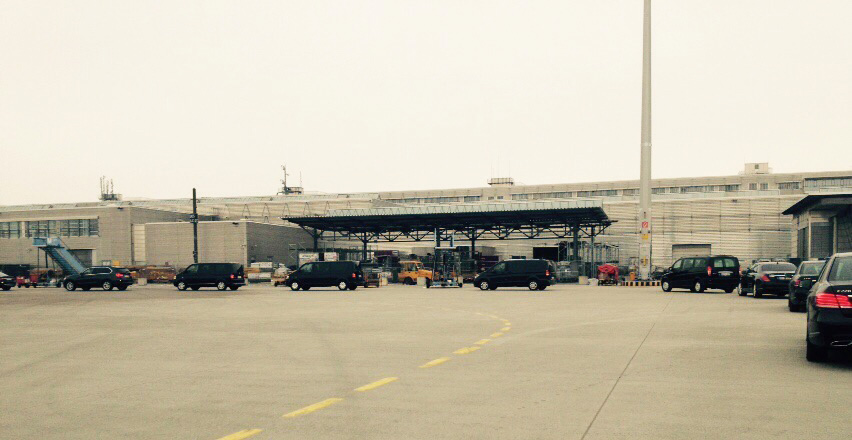 Security Conference Munich 2017
We were on duty with 23 vehicles at the 2017 security conference.
In Munich, 30 presidents from around the world met to discuss world security. Our convoy consisted of 15 luxury limousines, armoured cars and a police escort. We secured the security conference perfectly without incident.
Private ambulance and rescue vehicle
NEW: VIP-Mobile gets you safely from A to B. – Hire private ambulances (RTW) or emergency medical vehicles (NEF). Our highly trained rescue personnel and an accident doctor are also on board.
The private ambulances and rescue vehicles can be used at events, official occasions or events as desired. In an emergency, we will get you to the hospital safely and quickly.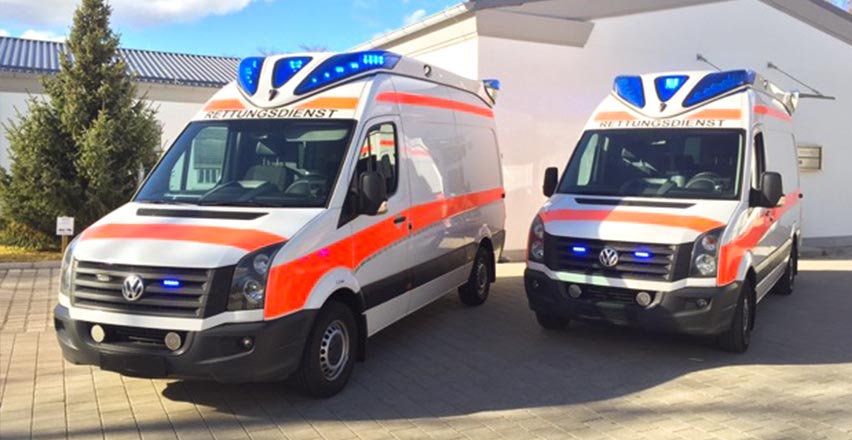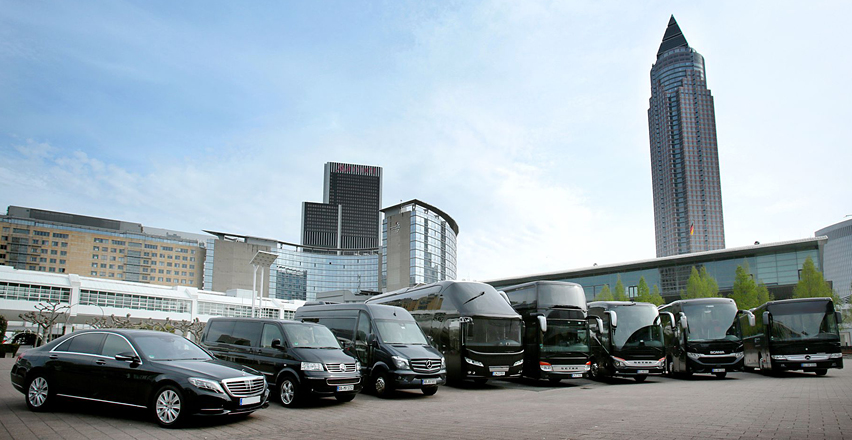 Die VIP-Mobile Busflotte steht für Sie bereit
Mit unserem neuen Bus-Shuttle-Service bieten wir Ihnen nun auch Busse zur Vermietung an. Bis zu 89 Gäste können so sicher und unbeschwert ihre Reise antreten. Unsere bestens ausgebildeten Fahrer chauffieren Sie und Ihre Kunden sicher an das gewünschte Ziel.
Zu Schutz der Gäste kann der VIP-Mobile Personenschutz dazu gebucht werden.
Luxury armoured limousines with a high protection class
Our vehicles are luxurious, high quality and armoured in various protection classes for daily use.
Our chauffeurs and bodyguards are specially trained for the protection of embassies and diplomats. Our team speaks fluent English and is available around the clock.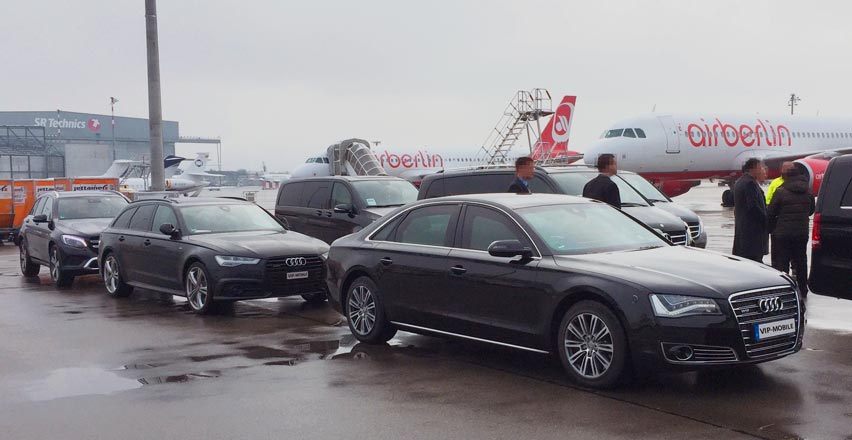 Pick up directly at the airport/airplane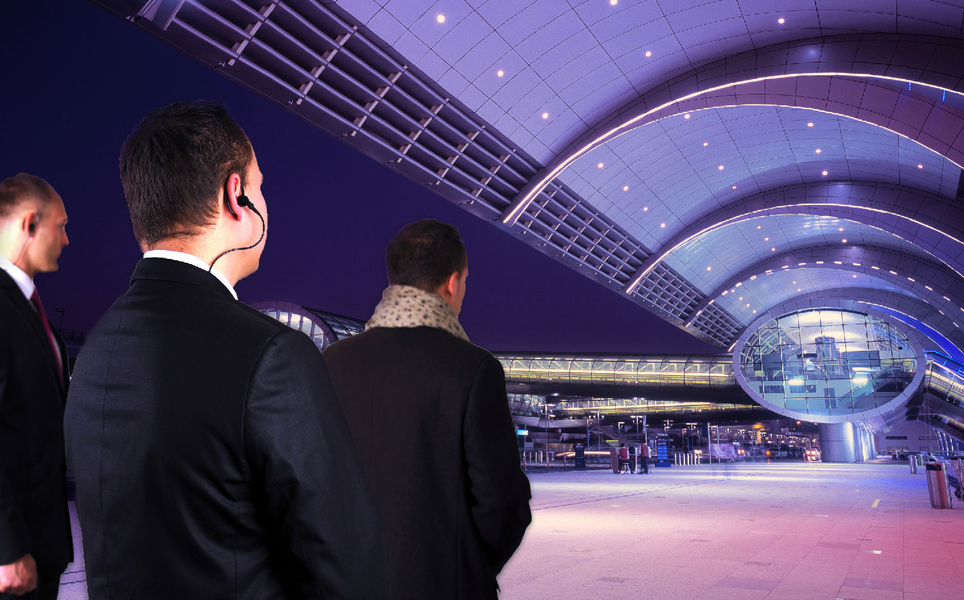 VIP-Limousinenservice für Botschaften und Diplomaten
VIP-Mobile bietet exklusiv für Botschaften und Diplomaten einen VIP-Personenschutz inklusive Limousinenservice an. Speziell auf die Bedürfnisse von schutzbedürftigen Personen angepasst bieten wir einen 24-Stunden-Schutz mit VIP-Betreuung für ganz Europa an – zum Beispiel in Davos, Zürich, Bern, Genf, Paris oder Berlin. Weitere Einsatzorte finden Sie hier.
Eine Auswahl unserer bisherigen Einsätze in ganz Europa können Sie unter Referenzen einsehen.
VIP-Mobile offers you security and protection
Hire chauffeur-driven security vehicles throughout Europe from VIP-Mobile. Our fleet is equipped with the best safety standards and includes exclusive luxury extras.
Videos of our missions
In our videos you can see our armoured limousines in action
– bookable with chauffeur, bodyguard and personal protection –
Presidential visit to Paris – March 2017
Embassy Service – Convoy at the airport